Huddle youth hubs were created in response to an urgent need to give young people a welcoming and safe place.
A place where they could easily access a host of integrated and diverse services available free of charge, in one location.
The hubs are one-stop shops for primary health care, mental health, physical health, and addiction services, employment counselling, peer support and outreach, in English and French. A variety of services are available, including Indigenous rituals, land-based healing workshops, mindfulness sessions, different types of recreation and community activities such as health and wellness workshops, group activities, crafts, creative activities, and much more!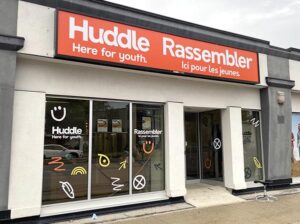 Each Huddle location is led by a diverse team of community members and professionals with trauma-informed practices and proven success supporting youth, including a counsellor, social worker, nurse practitioner and dietitian. Huddle youth hubs work with other community organizations, Indigenous leaders, and professional networks to provide young people with the support they need.
Seeing the value of this initiative, Réseau Compassion Network was quick to commit to opening up a location in St. Boniface. Huddle South Central, located at Unit A-17 St. Mary's Road, is managed by the Youville Centre team, with targeted support from the Centre de santé Saint-Boniface, both members of Réseau Compassion Network. Huddle is an initiative of the Government of Manitoba together with United Way Winnipeg and other philanthropic partners, including the Graham Boeckh Foundation, the RBC Foundation, the Winnipeg Foundation, and Réseau Compassion Network.
To find out more about this Réseau Compassion Network-supported project, visit:
reseaucompassionnetwork.ca/giving-manitobas-youth-the-supports-they-need
huddlemanitoba.ca/find-a-location/huddle-south-central