Monastery of the Order of St. Benedict
The residence and monastery of the religious congregation of the Order of St. Benedict required extensive maintenance work.
Given the age of its elderly members, the community of Benedictine Sisters of Winnipeg called on Réseau Compassion Network to support them in this next important chapter of their lives.
As a result, eleven nuns officially moved from their West St. Paul location to 419 Youville Street in St. Boniface in July 2023. The new monastery began construction in May 2022, and is managed by Réseau Compassion Network, with the input and cooperation of the Sisters, who have signed a ten-year lease.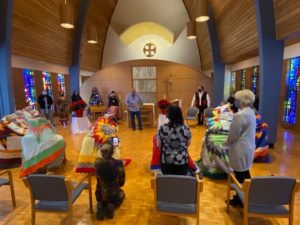 Their monastery in West St. Paul was turned over in a gesture of reconciliation to the Southeast Resource Development Council (SERDC), an organization representing eight Indigenous communities. "SERDC focuses on the well-being, health, and spirituality of members of their communities," says Sister Mary Coswin. "We immediately embraced the idea. They respect the land and don't plan to demolish the building. More importantly, this land once belonged to them and now they are getting it back."
Réseau Compassion Network also owns the land adjacent to the monastery, and the long-term vision for this project is to use it for a long-term care facility. The Résidence Despins administrative team also helps the religious congregation with their finances; yet another example of the strength and mutual support within the network.
To learn more about this community and the work Réseau Compassion Network is doing to support its members, read:
A New Home for the Benedictines | Compassion in Action | September, 2022
A Special Ceremony for the Sisters of St. Benedict's | Compassion in Action | December, 2021Benedictine sisters have new home | Winnipeg Free Press | November 10, 2023