Les suites Marion is a signature social justice project that is fully aligned with Réseau Compassion Network's strategic objective.
Its key components are responding to the unmet social needs of our community related to some of the main factors of complex poverty: access to safe, affordable housing, holistic well-being, and social exclusion.
Through partnerships with our members Sara Riel, St.Amant, Abri Marguerite (Accueil francophone), and other community resources, Les suites Marion provides access to 20 affordable housing units, including services to support residents' mental, emotional, and spiritual health.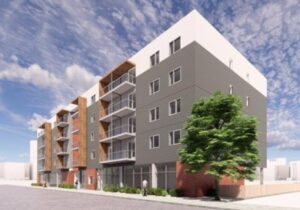 Les suites Marion is also home to 28 market-rate rental suites, designed to create a thriving, inclusive community, with carefully selected details and amenities to meet the diverse needs of individuals and families from all walks of life.
Located in the heart of St. Boniface, the building is also home to Réseau Compassion Network's offices, as well as a gathering place for meditation, courses and workshops on mindful self-compassion, and any other workshop supporting the services offered by our members to the communities they serve.
This innovative project is one "from the heart" for Réseau Compassion Network, which, in a spirit of love and compassion, wanted to bring together people from all walks of life and build a welcoming, inclusive community where everyone can aspire to reach their full potential.

lessuitesmarion.ca
reseaucompassionnetwork.ca/a-truly-unique-housing-project