The Huddle South Centre team, led by Youville Centre, serves youth aged 12 to 29 near the corner of St. Mary's Road and Marion Street in St.Boniface. They offer mental health, physical health and substance-use services, employment counselling, peer support and outreach in both French and English, and their main goal is to provide judgement-free, inclusive care for anyone who walks through their doors.
"When we opened in 2021, we quickly realized that there were more people out in the community that we might be able to help, and we started dreaming of a community outreach walk," shares Mirella Edwards, the Youth Hub Coordinator for Huddle South Central.
To better prepare for this initiative, "we had the chance to meet with Mitch Bourbonniere, a community advocate who has launched many outreach walks, and we were able to ask all our questions and learn from his wisdom. We also passed tobacco with our pipe carriers and knowledge keepers. We received really beautiful guidance, which was to spread love and kindness and give people what they need. They told us to meet folks where they're at, connect with them, give hugs, whatever is needed. We've tried to honour that spirit."
While Huddle South Central is open Monday to Friday, Edwards and her colleagues understand that not everyone is ready or able to come into the space to get services. "We're really trying to serve those marginalized communities and advocate for them," explains Edwards. "Going on the walk breaks the wall: when we show up for people, we're not asking them to call a number, to wait in line or show up at a certain time. We're showing up for them."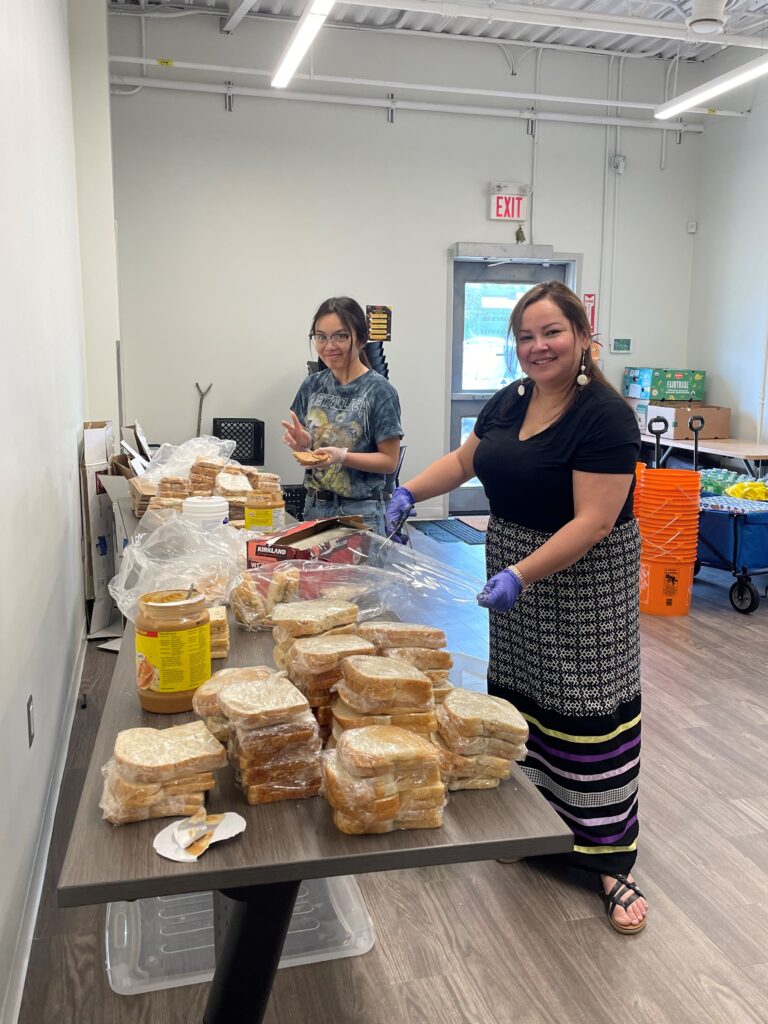 The community outreach group meets every Tuesday at 5:00pm at Huddle South Central (17 St. Mary's Road), and they hit the streets together after a blessing, housekeeping, and an intro for new volunteers. They leave Huddle at 5:30pm and are back by 7:30pm. While out in community, they distribute snacks, harm reduction supplies, and water, but most of all, they offer smiles, connection and understanding to all those they meet. The group includes community volunteers, as well as a nurse, a mental health facilitator and a peer support worker. No special skills are required to volunteer and those 14 and up are welcome (with those aged between 14 and 17 requiring parental consent).
Since the walks began in June, 2023, the effort to build relationships in the community has begun to pay off. "The name given to the outreach walk by our knowledge keepers is Echoes, Love and Truth Across the Water, and we're starting to be known," shares Edwards. "We'll be walking down a road, and we'll hear someone say, 'Oh, it's Tuesday, Echoes are here!' Other times, we have folks approach us to let us know that they've moved – they're no longer under a bridge, but further along in an encampment. The feeling of the community embracing us is so powerful."
Edwards stresses that there are many ways to support the work of the walks. People are welcome to join the group on Tuesdays, no prior registration required. Huddle South Central is also always looking for socks, bottled water, cup of noodles, granola bars, juice boxes, period products, reusable bags and backpacks, as well as mitts, tuques and blankets.
To get involved or to donate, please call 204-255-6497 or email hubfeedback@youville.ca.